Tickets
Advance: $20
Door: $25
Student Rush: $10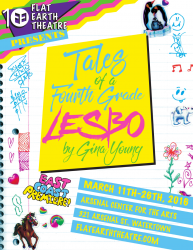 There are rules in this universe: seventh graders always win dance competitions, lunch table divisions are absolute, and there is only one right way to wear a backpack. In a nostalgia-filled pastiche of early '90s pop culture, three storytellers navigate the wilderness of leopard-print leotards and Jane Fonda workout videos as they relive the awkwardness of early sexual awakenings.
The East Coast premier of Gina Young's Tales of a Fourth Grade Lesbo thoughtfully – at times hilariously – captures the joy and the torment of adolescence that every kid who's ever been uninvited from a slumber party knows all too well.

This program is supported in part by a grant from the Watertown Cultural Council, a local agency which is supported by the Mass Cultural Council, a state agency.