Know Before You Go
If you're planning to attend a Flat Earth show, check out our Know Before You Go page for information on accessibility, transportation, parking, box office policies, and more!
Our Mission...
Flat Earth Theatre crafts experiences that challenge the worldview of both artist and audience. Through evocative, intimate staging and visceral, intelligent performances, we inspire the community to question their preconceived notions and expand their perspective. We stage productions of neglected and underperformed scripts, as well as new and in-development pieces, and conceive unique takes on more conventional works. Flat Earth Theatre thrives in its egalitarian approach, engaging the diverse ideas and skills of its company members and collaborators to create thought-provoking theatre that informs and entertains.
Our History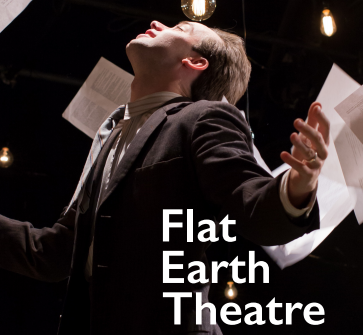 Flat Earth Theatre was established in the summer of 2006 by Kevin Mullins and Jake Scaltreto , long-time friends from Watertown seeking a creative outlet. Now in its fourteenth season, Flat Earth has grown to thirteen members and established itself as a distinctive voice in Boston theatre. Over the years, the goal organically emerged to focus on challenging audiences to question their preconceived notions about the world. The company focuses on intellectual themes – often scientific, literary, or historical – as well as topical issues that explore elements of society that inspire thought and discussion.
Flat Earth has no Artistic Director. Rather, all decisions from season selection down are made by company consensus. Each member contributes their own talent and perspective to shape the identity of the company. Flat Earth functions as an egalitarian community of artists, a consortium of creative minds brought together in the pursuit of great theatre.
Featured productions include the award-winning staging of The Pillowman with the IRNE-nominated shadow puppetry of Woellert&Clark, MyTheatre Awards favorite Terra Nova, the IRNE Award–sweeping The Farnsworth Invention, the much lauded Fat Pig, and the Elliot Norton Award–winning Silent Sky.
Our Theatre C.R.E.D.
Collaborative - As an egalitarian company, collaboration among production teams and company members is at the core of decision making. All planning starts with discussion in which every member has equal opportunity to express their opinion and be part of the conversation, and all resolutions are determined through the accord of those involved. Flat Earth Theatre's objective is that everyone has ownership of the outcome, whether that be in how a show looks, what plays are selected, or how the company is run.
Resourceful - Flat Earth showcases creative approaches to complex theatrical matters, onstage and off. We create productions of formidable quality, but remain budget conscious by pushing our artists to think outside the box, embrace their inventiveness, and be truly original in their work.
Evocative - Through our productions and other interactions, Flat Earth Theatre strives to challenge both audience member and artist to reassess what they know about the world around them. Unfamiliar themes and little-known stories awaken an interest in our audience to learn more and discuss with others, and they leave the theatre transformed by what they have just experienced.
Daring - Flat Earth's risk-taking style pushes us in unexpected directions, enabling us to craft theatrical works with an approach unique to our company. Our ambitious choices push us into new, exciting territory and give audiences an experience not often seen on Boston stages.
Our Friends
Boston and the surrounding area are home to dozens of small, innovative theatre companies. Below are just some of the companies operating in and around the Boston area. We encourage you to visit their websites and check up on what they're up to. If your theatre company is not listed here, drop us a line and introduce yourself; we'd love to meet and get to know your group!