Tickets
General Admission: $25*
Student: $12.50*†
* Includes MCA Facilities Fee
† Student ID Required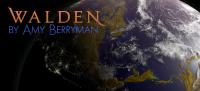 Out of consideration for the safety of our artists and audiences during this global health crisis, Flat Earth is saddened to announce that we will be canceling our June 2020 production of Walden.
---
In the not-so-distant future, climate change has intensified and scientists are recommending that we colonize elsewhere. Cassie, a NASA botanist, returns from her year-long deployment in space and is shocked to find her twin sister, Stella, a former NASA architect, engaged to a member of the "Earth Advocates," an organization dedicated to reclaiming our climate change–ravaged planet.Grappling with questions of rivalry, love, and responsibility, their relationship loses its tether, as the twins argue over two impossible scenarios: either find a way to save the Earth or relocate humanity somewhere not yet doomed. Walden asks timely and pertinent questions that get to the very soul of what humanity means. What do we owe each other, ourselves, and the very planet on which we reside? Can we escape our problems, merely by leaving them behind, if we only travel far enough? Or are we forever bound by geography, blood and family? How do we create meaning in a world that is falling apart?
Join Flat Earth Theatre, director Josh Glenn-Kayden, and a cast and crew of local artists as we launch Amy Berryman's Walden, coming soon to the Mosesian Center for the Arts in Watertown.

This program is supported in part by a grant from the Watertown Cultural Council, a local agency which is supported by the Mass Cultural Council, a state agency.