Tickets
General Admission: $25*
Student: $12.50*†
* Plus Fees
† Student ID Required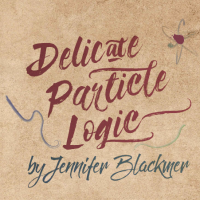 Heralded as the woman who stole the bomb from the Nazis, physicist Lise Meitner became a human enigma when she fled battle-ravaged Germany directly into obscurity. The war long over, she visits with the painter Edith Hahn, wife of chemist Otto Hahn, and the two women reminisce, open up old wounds, and dissect the teeming worlds of possibility. Seamlessly blending art and science, Jennifer Blackmer's Delicate Particle Logic depicts the untold stories of nuclear fission, both real and rumor.
Flat Earth Theatre participates in the Massachusetts Cultural Council's Universal Participation and EBT Card to Culture programs. Visit the MCC Website for more information.
Full ASL-Interpreted Performance
Join us Saturday, October 13th at 8pm for an evening performance of Delicate Particle Logic that will be fully interpreted in American Sign Language. All are welcome, and seating is general admission. An area of seating with excellent visibility of the interpreters in our small black box space will be reserved for members of the Deaf and hard-of-hearing community. Questions about the ASL-interpreted performance, or any other questions about accessibility at Flat Earth shows, can be directed to [email protected].