By Susan Mulford, Boston and Beyond
Well stated by the Director, the 5th Annual Jolly Award winner as well as multiple IRNE Award-winner, Sarah Gazdowiicz, "If after leaving the theatre today you find yourself trying to explain this play to (someone)…good luck." I did just that and immediately found myself floundering in front of various confused faces. But the bottom line…it is a fascinating, totally engaging, at times..edge of  your seat science-fiction story that is performed by a talented cast in a clever set that crosses both worlds and is designed by Rebecca Lehrhoff.  Flat Earth Theatre presents at The Mosesian Center for the Arts at 321 Arsenal Street in Watertown Jennifer Haley's immersive, futuristic play that focuses on an online wonderland where anything is possible. "The Nether" is an advance form of technology that is leaps beyond our current Internet capabilities.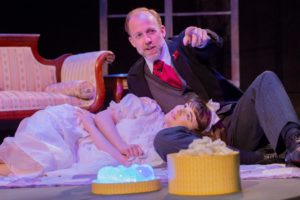 The mysterious "Papa", played by IRNE award winner, Bob Mussett, holds court in his creation. A virtual, Victorian garden, a sensory utopia where patrons may indulge their darkest fantasies under digital anonymity and without real-world consequences.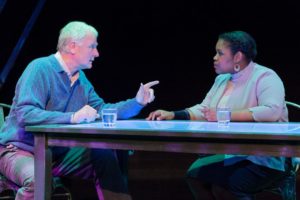 But when Detective Morris of the Nether police, played by Regine Vital, investigates Papa's dealings, she uncovers a series of darkly unsettling acts which throw morality, the law, and human nature itself into question. Jennifer Haley's science fiction crime drama, also featuring Julia Talbot (Iris), Jeff Gill (Doyle), and Arthur Gomez (Woodnut), has been hailed by The Independent as "a gripping and deeply disconcerting look at the Internet and its role in one of the most disturbing issues of our time," Why? Because in our current world, "people play these online games and figuratively cross over into a world of make-believe where anything is possible.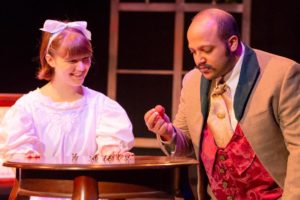 The real danger…"It is a collective fantasy in which people can become aware of new possibilities for the culture of the real world. " "…rules…structure the players' behavior, but now there is a consciousness behind the manipulation. If play is now designed, then designers — professional or amateur — are now manipulating behavior. This is a remarkable production that, in truth, is not so much sci-fi but is our growing reality. Tickets are available at www.flatearththeatre.com