Tickets
General Admission: $25
Student*: $10
*Door only. Student ID required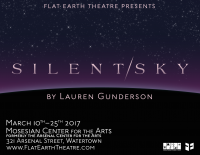 At Harvard Observatory at the turn of the 20th century, Henrietta Leavitt joins a group of women tasked with charting the heavens without being allowed to touch a telescope. Despite restrictions placed on her because of her sex, Henri devotes her life to the study of celestial bodies just out of reach, balancing the needs of love and family close at hand. Inspired by the real-life woman whose work allowed astronomers to measure the distance of faraway galaxies, Lauren Gunderson's melodious, evocative Silent Sky challenges how we explore our universe by revealing the music of the stars.
Silent Sky is made possible in part by a grant from the Boston Foundation.

This program is supported in part by a grant from the Watertown Cultural Council, a local agency which is supported by the Mass Cultural Council, a state agency.
Join Us for Post-show Talkbacks
Sunday, March 12, 2017, 2pm: Lindsay Smith, Curator of Astronomical Photographs & Archivist at the plate stacks at Harvard College Observatory
Friday, March 17, 2017, 8pm: Dava Sobel, New York Times best-selling author of The Glass Universe: How the Ladies of the Harvard Observatory Took the Measure of the Stars (also joined by Lindsay Smith)
Sunday, March 19, 2017, 2pm: Lindsay Smith, Curator of Astronomical Photographs & Archivist at the plate stacks at Harvard College Observatory