Calls for 7 Rooms: The Masque of the Red Death, a New Works Project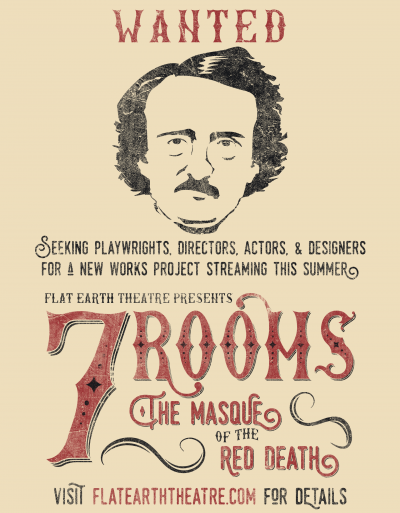 Flat Earth Theatre seeks to assemble 7 playwrights, 7 directors, podded actors, and staff/crew members with diverse identities, backgrounds, experiences, styles, and creative voices to collaborate on a new works project inspired by Edgar Allan Poe's deliciously macabre short story "The Masque of the Red Death." While a plague devastates the world outside, Prince Prospero's exclusive "end of the world party" provides a hedonistic haven and decadent distraction for its rich and powerful guests. Each playwright/director team will take on one of the seven colorful chambers of Prospero's manor by creating a short (5- to 8-minute) scene that will form part of a larger work once stitched together with the other pieces.
We are especially seeking artists of color to make our masquerade full of the most varied perspectives we can get into our castellated abbey.
"The Masque of the Red Death" is a work in the public domain that you can view on Project Gutenberg for inspiration; it's very short! https://www.gutenberg.org/ebooks/1064
A modest stipend for all artists will be offered.
Roles Available:
7 Playwrights
7 Directors
Podded Actors, pairs or trios
Sound Designer
Costume Designer
Stage Manager
Assistant Stage Managers
Video Editor
Potential for others – don't hesitate to reach out if you're interested!
Project Summary:
Edgar Allan Poe's infectious short story "The Masque of the Red Death" continues to bear relevance to our current moment in time, from the devastation of a plague on a population, to a society's conflict in acknowledging the seriousness of the disease, to the societal inequities exposed in the handling of a crisis, to the understandable human need for distraction, connection, and contact after too long in isolation.
Our project aims to unite seven distinct voices to collaborate with directors, actors, and production team in creating short plays for no more than three actors that take place with a plague as the backdrop. We encourage playwrights to think beyond Poe's "Masque" and get really creative with style, setting, and characters, embracing the virtual medium in their 5- to 8-minute pieces. We are not looking to do straight adaptations of the short story in these pieces, but to use it as inspiration for telling new stories.
We plan to work closely with actors, playwrights, directors, and the rest of the creative team to ensure that the pieces work together. This may include overlapping or repeated elements, the option for scripts to be viewed in any order or a specific order, as well as just how different they can be from one another stylistically.
Due to the scope of the technical needs of the project, the individual rooms' plays will be pre-recorded and streamed, with potential for some live elements. We will ensure that we we provide support in getting these scenes written, designed, rehearsed, and pre-recorded, especially since we will continue to work remotely for the safety of our artists. Recording will most likely take place in the actors' homes, for safety reasons.
Project Info:
Rehearsal and Filming Details: Rehearsals will begin in early May, with recordings of the final scenes beginning later in the month. All rehearsals, meetings, recordings, and other correspondence will be conducted remotely.
Performance Details: The show will be presented virtually in the Summer 2021, currently targeting early July. Exact dates will be determined with the full creative team.
Submission Requirements: